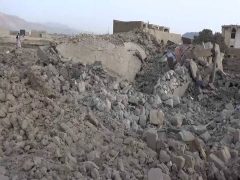 Saudi American Raid Result in a Destroyed Civilian House in Manbah
Saada / November 27 / Yamanyoon
Fighter jets of the US-backed Saudi coalition dropped today bombs on different regions in Saada governorate.
Saudi warplanes launched a series of air raids, including sound bombs, on the districts of Sahar, Saqain and Manbah, security source confirmed.
Moreover, the coalition's raids bombarded Azlah Al Alsheikh region in Manbah disrict, leading to the complete destruction of a civilian house.