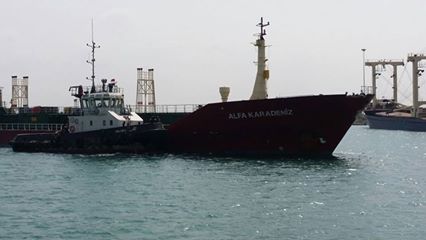 Yemeni Red Sea Ports Deny Blocking the Arrival of Relief Ships
Hodeidah / November 28 / Yamanyoon
The Yemeni Red Sea Ports Corporation denied the rumors and allegations addressed by some media regarding the obstruction of the World Food Program relief ships from arriving.
The corporation stated that the circulating rumors and allegations are not valid and aim for justifying the sea blockade imposed by the US-backed Saudi coalition on the Red Sea Ports Corporation.
Yemeni corporation also confirmed its partnership with the World Food Program to facilitate the arrival of relief ships and be able to deliver the aid to those in need; who would be in dire need of such assistance.
In addition, it expressed its discontent on the circulating false news, stressing that it reserves all its legal rights guaranteed by the law in prosecuting the promoters of these rumors and allegations. They have to seek news and information from the right sources, especially under the current situation experienced by Yemen as these false allegations have a bad influence, corporation stressed.