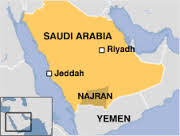 Yemeni Shells Hit a Number of Saudi Military Sites in Najran and Jizan
Najran – Jizan | December 1 | Yamanyoon
The artillery force of the Yemeni army and popular committees pounded today groupings of Saudi soldiers in several military sites located in Najran and Jizan.
In Najran, Yemeni forces targeted gatherings of Saudi soldiers and their military vehicles in Sudaiss site using artillery shells. They also waged shells and Katyusha missiles aiming at groupings and fortifications of the Saudi army in Makhroq site.
In Jizan,  artillery force hit Saudi soldier groupings in Kariss site with a number of shells.
In the same context, Saudi soldiers in Al Khadra'a frontier passage in Najran were targeted yesterday by artillery shells, achieving direct hits.