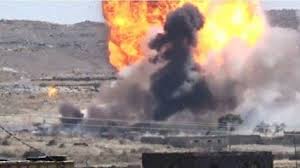 Saada: 11 Killed and Injured Civilians by a Saudi American Raid
Saada / December 6 / Yamanyoon
Five Yemeni civilians have been killed and six others got injured by a raid launched by the fighter jets of the US-backed Saudi coalition aiming at a farm in Baqm district, Saada governorate.
The Saudi American air strike targeting the civilian farm in the region of Al Maqrm in Baqm lead to the killing of five citizens and the injury of six others. It also completely demolished a car, security source confirmed.
The coalition's warplanes launched another raid on Baqm's junction, targeting shops of citizens, source reported.