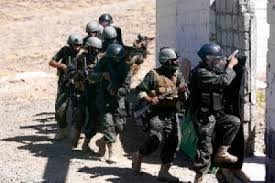 Security Forces Detect an Explosive Device in Yemeni Capital
Sana'a / December 7 / Yamanyoon
Security agencies and popular committees detected an American made grenade left by unidentified terrorist elements in a street near Haddah water factory in the capital city of Sana'a.
The bomb was successfully detected and an investigation is going on into the incident to find out the identity of those involved in this terrorist act to capture them, security source confirmed.
The security agencies and popular committees also captured three suspected people in Kharif district, Amran governorate, of detonating a bomb at a citizen's house in Swat region, source reported.
Yemeni security forces are on the lookout for those tempted to tamper with Yemen's security and its citizens, confirming that citizens must report any suspicious activities to maintain security, stability and public tranquility.