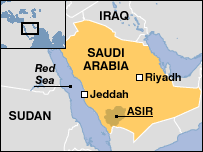 Missile and Artillery Bombardment Hit Saudi Military Sites
Asir / December 12 / Yamanyoon
The Yemeni army and popular committees have targeted today the passage of Alab and the Saudi military sites of Shabakah and Maltah in Asir by artillery and missile bombardment.
The Yemeni shells and missiles hit their targets with high accuracy, military source confirmed.
Moreover, the military media had distributed on the 10th of December scenes documenting the moment of shelling Alab passage and the eruption of flames after being hit. Scenes also displayed the burning of a Saudi military vehicle on Al Manfdh road.
These military operations function as a response to the constant war crimes committed by the US-backed Saudi coalition against Yemeni civilians since March 26 of 2015.