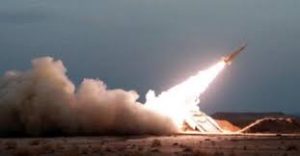 Two Zelzal 2 Missiles Hit Saudi Mercenaries in Jawf
December 18 / Yamanyoon
The missile force of the Yemeni army and popular committees has launched two locally made missiles today of the type "Zelzal 2" targeting Saudi mercenary groupings in Jawf's junction, Majzr district in Marib governorate.
Zelzal 2 missiles successfully hit their target, leading to killed and injured Saudi mercenaries, military source confirmed.
In addition, four military vehicles belonging to the mercenaries along with their camps have been burned in the bombardment.
These military operations function as a response to the constant war crimes committed by the US-backed Saudi coalition against Yemeni civilians since March 26 of 2015.