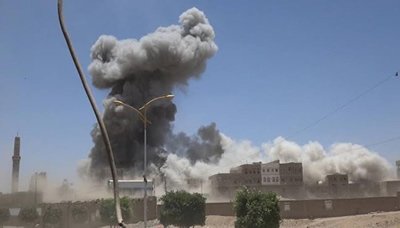 At Least 40 Saudi American Raids Hit Saada Governorate
December 19 / Yamanyoon
Fighter jets of the US-backed Saudi coalition waged 40 air raids today morning on several regions in the governorate of Saada.
About 30 air strikes hit different areas in Al Sayfi region, Sahar district, resulting in serious damage to the properties and farms of Yemeni civilians, local source reported.
Another 8 raids struck Al Jumaima village and its surroundings in Maran region, aiming at civilian houses and properties with no reported casualties, source confirmed.
The region of Al Soh in Kataf district has also been under bombardment by the coalition's fighter jets, where 2 raids targeted the region.