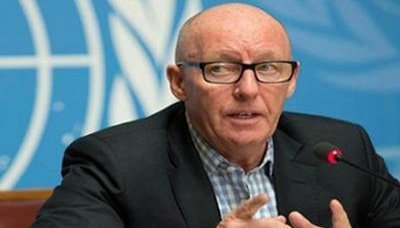 UN Official: Humanitarian Response Plan for Yemen Only Receives 58 Percent of Funding
December 20 / Yamanyoon 
Humanitarian Affairs Coordinator and Resident Representative of the United Nations in Sana'a, Jamie McGoldrick, said Monday that the humanitarian response plan for Yemen  2016 only received 58 percent of the funding.
The funds were estimated at 943,900,000 USD out of 1,63,000.000 USD which have negatively impacted on the ability of relief organizations in responding to the worsening humanitarian situation in the country, McGoldrick said.
"It has been completed to prepare the humanitarian needs document for 2017 which requires a new funding. As a result of the large increasing of those who are in need of humanitarian assistance in the past nine months," he added.
" Approximately 10,000,300 citizens are in dire need of humanitarian help out of 18 million in need of some kind of help, he said, adding that the increasing number of people in need for aid is up to 20 percent since the start of the conflict.
The UN official talked about the humanitarian needs document for 2017 which would be launched later, including a universal human appeal.
He said that the document collects numbers, information and places that require assistance in various parts of the country.
 Fourteen million are living in lack of food security, 7 million are severely lacking of food security, 2 million and two hundred thousand children are suffering from an acute malnutrition, including more than 460 thousand child suffering from severe acute malnutrition with an increase of 20 percent in the past two years, and 1 million and 700,000 children are suffering from average acute malnutrition, the UN official concluded.