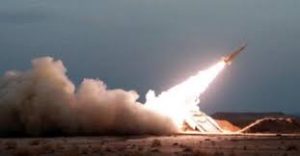 Yemeni Made Zelzal 2 Missile Hits Saudi Mercenaries in Jawf
Jawf | December 20 | Yamanyoon
The missile force of the Yemeni army and popular committees launched today a locally made missile of the type "Zelzal 2" on groupings of Saudi mercenaries, Jawf governorate.
Yemeni forces successfully launched Zelzal 2 missile on Saudi mercenaries in the region of Aqabah in Jawf, military source confirmed.
Zelzal 2 hit its target with high accuracy, resulting in killed and wounded mercenaries.
In the same context, a number of mercenaries were killed yesterday, including the commander Talib Al Qauh by a landmine explosion in Aslan point, Masloub district.
In a similar incident, 12 mercenaries had been injured last Friday by a landmine explosion in their vehicle in Ghayl district, Jawf governorate.
These military operations function as a response to the constant war crimes committed by the US-backed Saudi coalition against Yemeni civilians since March 26 of 2015.