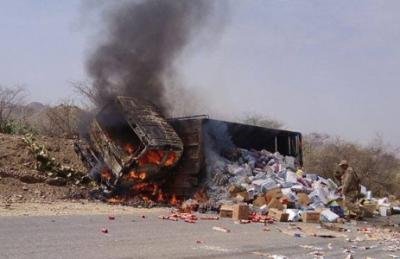 Nine Shoppers Killed, Wounded by US-Backed Saudi Coalition in Hajjah
January 1 / Yamanyoon
US-backed Saudi coalition waged air strikes targeting traders' vehicles loaded with goods in Hajjah governorate on Sunday, killing and injuring at least nine shoppers, officials and rescuers reported.
Some of the injured are in a critical condition.
The air strikes targeted the village's shoppers in Ahim area of Haradh district.
Several other shoppers were wounded due to the fresh criminal air strikes, which also burned the vehicles, goods and foods.