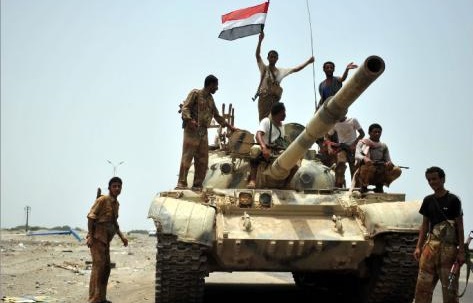 Great Victories for the Army and Popular Committees in All Battlefronts
January 8| Yamanyoon
Yemeni army and popular committees achieve great victories in the all battlefronts and losses the aggression enemy heavy military equipment. Also, they kill more than 200 mercenaries.
Army and popular Committees destroyed an armored vehicle belonging to the aggression mercenaries in the Niham directorate of Sana'a governorate.
A military source said, destruction of an armored vehicle type (BMP) belonging to the mercenary aggression targeted it by a missile , while it was on the outskirts of the Al Malih Valley directorate of Niham.
Moreover , at least 150 Saudi-US  mercenaries have been killed and injured when the missile force of the national Yemeni army and popular committees fired a ballistic missile on a Saudi mercenary military camp in southwest of Taiz governorate. Also, medium-range missile hit Shab Al-Jin military camp near the Red Sea strait of Bab Al-Mandab. Among the killed were a number of terrorists transformed lately from Syria through Turkish planes, said the source.
In addition , army and popular Committees achieve great  victories in the battlefronts of Bab Al mandab in Taiz province where the army and popular   Committees kill more than 150 mercenaries and dozens of wounded . Also , in the Shabwa battlefront there were a large  victories , where the army and popular Committees kill dozens and wounded others .
 Army and popular  committees yesterday destroyed  more than 15 armored military in the border battlefronts .
These military operations function as a response to the constant war crimes committed by the US-backed Saudi coalition against Yemeni civilians since March 26 of 2015.