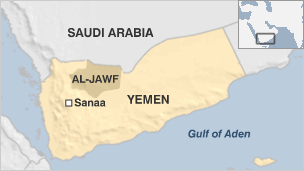 Saudi Mercenaries Attacked in Jawf
January 21 / Yamanyoon 
Dozens of Saudi-paid mercenaries have been killed and others wounded when the Yemeni army and popular committees ambushed their sites on Saturday in Khab wa Sha'af district, Al-Jawf governorate, a military official reported.
The operation took place in Al-Mahashamah area, leaving dozens of the mercenaries killed and injured, as well as some others held as captives.
Meanwhile, the army and popular committees bombarded two military vehicles belonging to the mercenaries during the operation.
These military operations function as a response to the constant war crimes committed by the US-backed Saudi coalition against Yemeni civilians since March 26 of 2015.