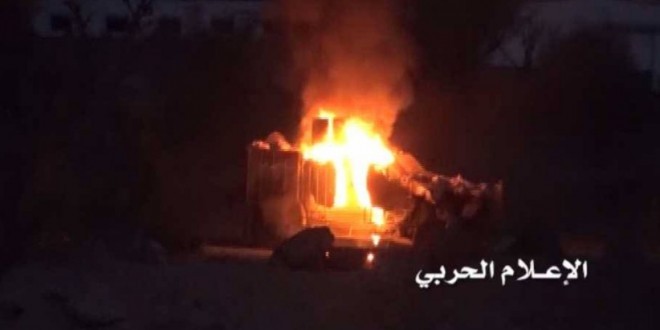 Saudi Mercenaries Killed, Military Vehicles Destroyed in Makha
February 7 / Yamanyoon
The Yemeni army and popular committees repelled a major Saudi attempt to advance on Tuesday towards eastern Makha, despite the air and sea coverage in support of Saudi mercenaries.
About 11 Saudi military vehicle have been demolished in eastern Makha, while dozens of mercenaries got killed, including Qaeda, Daesh elements as well as Sudani soldiers, military source confirmed.
The attempt to make progress towards eastern Makha lasted from morning until evening, and was successfully foiled after the death and injury of a number of mercenaries.
These military operations function as a response to the war crimes committed by the US-backed Saudi coalition against Yemeni people since March 26 of 2015.