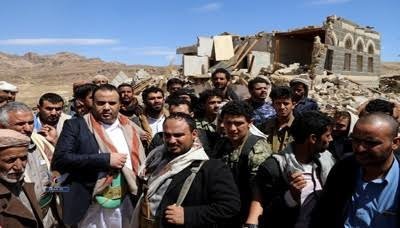 President Visits Arhab, Offers Condolences to Families of Victims
February 16 / Yamanyoon
President of the Supreme Political Council Saleh Al-Sammad visited on Thursday Arhab district in Sana'a governorate, offering condolences to victims of the massacre committed by the US-Saudi aggression warplanes against a the house in the district.
The US-Saudi aggression warplanes bombarded on Wednesday afternoon a funeral house in Arhab district of Sana'a governorate, resulting in the death of eight women and injuring ten others, including children.
The air raid hit the funeral house in Shira area, Bait al-Nakaee, in Arhab.
The president condemned the heinous crimes and massacres committed by the US-Saudi American aggression, criticizing the complicity of the international community with the aggression against Yemen for two years.
Al-Sammad denounced the international silence towards crimes committed by the aggression warplanes against Yemen, calling for the lifting of the blockade that has negatively affected the 25 million Yemeni population.
The President confirmed that the criminal massacres committed by the US-Saudi American aggression against innocent civilians, women and children would only make Yemenis confront the aggression with more patience, stability, freedom, independence and dignity.