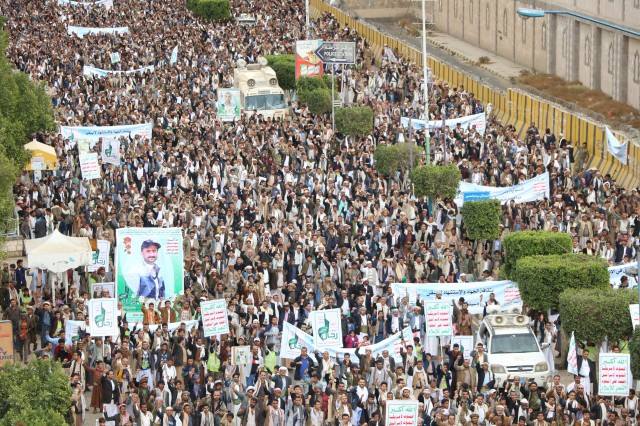 A Massive March in Capital Sana'a for the Blood of Martyrs
Sana'a | February 17 | Yamanyoon
The Yemeni capital witnessed on Friday a massive march in Bab Al-Yemen on the occasion of the annual anniversary of the martyr under the slogan "A march of loyalty for the blood of martyrs."
The event consisted of chants and spirited slogans, a number of speeches and a show held by the Ansarullah band.
The statement of the marching given by the president of the Martyrs Foundation, Hussein Al-Qadhi, welcomed Sayyed Abdulmalik's call on the importance of documenting the martyrs and taking care of their families.
He also confirmed his foundation's total support for the families of the martyrs, calling upon the government to implement projects for the families' service in recognition of their resilience.
 As one of hundreds during the march for the martyrs, he stressed on the importance of unity and standing as one confronting the Saudi American aggression in a way to respect and appreciate the sacrifices of the martyrs.
Statement also condemned war crimes committed by the Saudi American aggression, most recently a massacre in Shra village in Arhab, appealing the international and local organizations to stand with the oppressed Yemeni people and lift the imposed land, air and sea blockade.