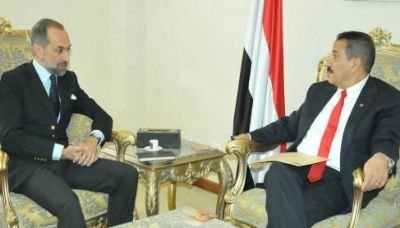 FM Meets ICRC Regional Director
February 20 / Yamanyoon
Foreign Minister Hisham Sharaf met on Monday with the Regional Director of the International Committee of the Red Cross (ICRC), Robert Mardini.
Mr. Sharaf welcomed the role played by the International Committee of the Red Cross in Yemen where the country endures the US-backed Saudi aggression.
Minister Sharaf stressed the importance of the role of the ICRC in protecting unarmed civilians in battle zones, including the town of Mocha where there are still about 30,000 civilians trapped in the area.
Mocha's civilians are in dare need for necessary protection and humanitarian help, the minister said.
Mr. Mardini affirmed that ICRC is keen to provide all forms of assistance for the protection of civilians, as well as to provide the required medical services.