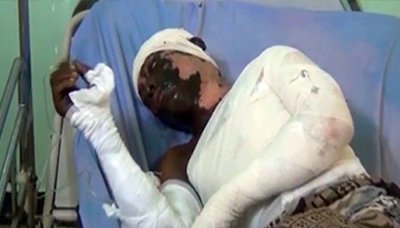 Five Civilians Injured in Saudi Bombings in Sa'ada
February 22 / Yamanyoon
Five civilians have been injured on Wednesday in US-backed Saudi bombardment on several regions of Sa'ada governorate, a local official told Yamanyoon.
Moreover, two civilians have been critically injured when the warplanes of the US-Saudi aggression targeted Al-Hamazat and Bani Mutadh areas in Sahar district using two cluster bombs.
In addition, three civilians have been injured by two Saudi American hostile raids targeting Talaan area in Haidan district .
Fighter jets of the US-Saudi aggression also aimed at a car in Al-Zawar area in Al-Safra district.
Furthermore, two raids hit Takhyah area in Magaz district, causing heavy losses in citizens' houses.