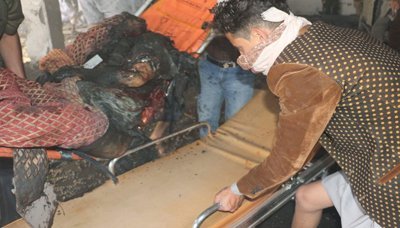 Saudi American Air Raids on Sa'ada Kill 12 Civilians
February 22 / Yamanyoon
The death toll of the US-Saudi aggression targeting Sa'ada on Wednesday rose to 12 civilians, a security official told Yamanyoon.
The official said that the hostile warplanes targeted a car in Nayel zone in Al-Zawar area, Al-Safra district, using two raids, resulting in the death of a woman and critically injuring four others.
In the same context, the official added the death toll of the used international cluster bombs by the aggression on Al-Hamazat and Bani Mutadh area rose to seven civilians, including children.