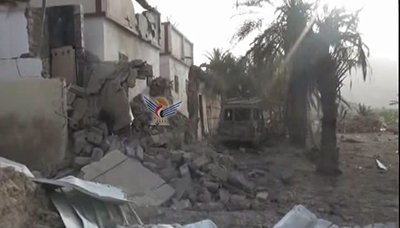 US-Saudi Warplanes Use Int. Banned Cluster Bombs
March 4 / Yamanyoon
Fighter jets of the US-backed Saudi aggression launched a series of strikes on Saturday targeting districts of Sa'ada governorate, a local official told Yamanyoon.
The warplanes waged four strikes on Sa'ada city and another three strikes on Al-Azqawl area of Saher district, including an international banned cluster bomb.
Moreover, the hostile warplanes struck Al-Aqabah area three times in Haydan district, as well as two strikes that hit Al-Amarah area of Kutaf district.
The official reported that the strikes caused heavy damage to citizens' properties and farms.