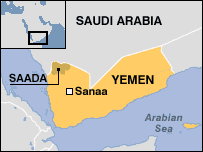 Saudi American Air Strikes Hit Sa'ada
March 5 / Yamanyoon
 Fighter jets of the US-backed Saudi aggression waged a series of strikes consecutively on different areas of Sa'ada governorate, a security official told Yamanyoon.
The hostile warplanes bombarded the areas around Sa'ada city four times, while another raid hit the main road in Burkan area of Razah district.
Moreover, the different areas of Monabah district that has been targeted by US backed-Saudi rocketry bombing, causing heavy damage to citizens' houses, farms and destroying public roads, the official added.