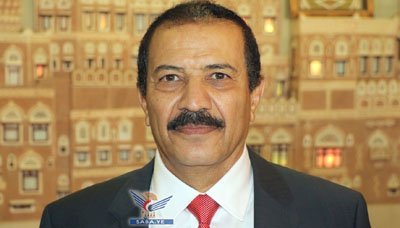 FM: We Welcome Any Initiatives for a Political, Inclusive and an Equitable Solution
March 6 / Yamanyoon
Foreign Minister Hisham Sharaf welcomed on Monday the statement issued by the US ambassador to Yemen saying that Washington supports peace efforts under the auspices of the United Nations.
Matthew H. Tueller's statement added that the only solution would be through comprehensive peace negotiations in accordance with parallel political and security procedures.
Sharaf said in a statement that this confirms what had already been announced by the previous US administration in more than one occasion, most recently the principles' points of Muscat that was sponsored by former Secretary of State John Kerry.
He added that the Supreme Political Council and the Government of National Salvation had announced in several occasions that a political solution should be reached. It has to be a Yemeni – Yemeni solution in one hand and a Yemeni-Saudi political solution on the other hand, ensuring a comprehensive, equitable and honorable solution that ends the aggression against Yemen.
Foreign Minister called on President Trump's administration to prove its credibility and neutrality and stop arm deals exported to Saudi Arabia, including internationally banned weapons.
He also called for ending the logistical and intelligence support to the countries of aggression against Yemen in order to create a conducive environment for any future peace negotiations under the auspices of the United Nations and the five permanent members of the Security Council.