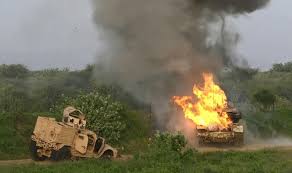 Snipe Dozens and Target others of Mercenaries in Taiz and Marib
April 17 | Yamanyoon
The Yemeni army and popular committees targeted the aggression mercenaries in Taiz and Marib .
Army artillery and committees waged several shells at groupings of mercenaries in the Mongaba district of Taiz , the hit killed numbers of mercenaries and injured othes .
The army destroyed two military vehicles in Mocka disrict , and the engineering unit of the Yemeni army bombed a vehicle by explosive device in Taiz .
In Marib and Shbawa , the army forces and popular committees sniped three mercenries .