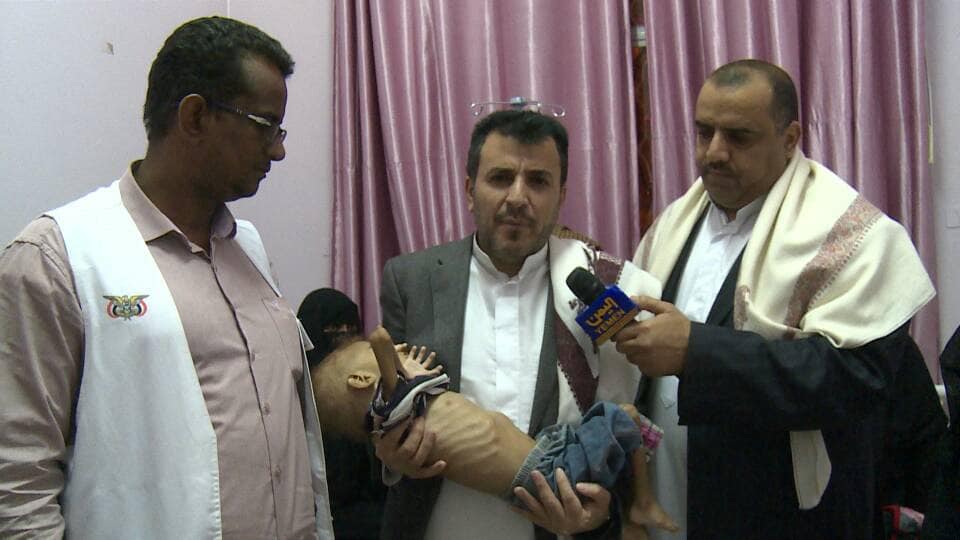 Health Minister: One in Three Children Experience Malnutrition
Yamanyoon
Minister of Public Health and Population Dr. Taha Al-Mutawakil said that one in three children under the age of five in Yemen is malnourished as a result of the Saudi aggression and its imposed siege.
The health minister pointed out that eight in nine children are anemic and about one million and 200 married pregnant women are malnourished, pointing out that a child dies in Yemen every 15 minutes due to infections and lack of medicines.
Dr. Al-Mutawakel informed the health situation after he examined a child named Basem along with four other children who just arrived from the district of Aslam, Hajjah governorate, who suffer from malnutrition, to al-Sabeen hospital for motherhood and childhood in the capital Sana'a, after orders were given by the health minister during his visit to the aforesaid district in a preset time.
The Minister of Health called on international humanitarian organizations to contribute actively and cooperate with the Ministry to find a comprehensive way in which children and women are observed before, during, and after treatment of malnutrition, in order to ensure that the disease does not recur.
The minister also emphasized that families must be provided with all possible assistance, food, health care, water, sanitation, emergency supplies.
"Health conditions are tragic in the areas that I have recently visited, which are the districts of Khiran al-Muharraq, Aslam and Abes, where many people need urgent assistance," he said.
While the Director General of Integrative Health of Children, Dr. Mohammed Jahaf, said that the children of Yemen face the specter of death.