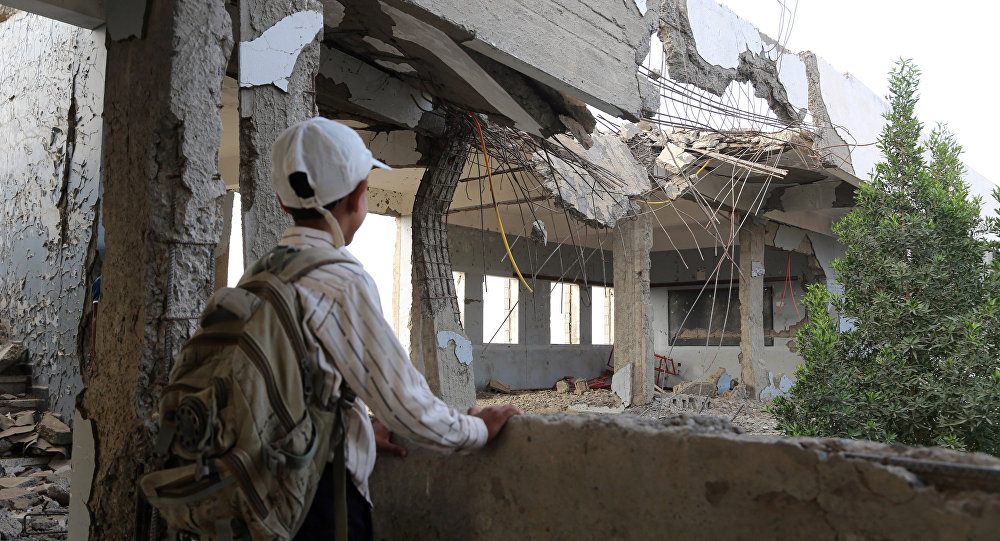 Yemen's Education Sector Seriously Damaged Due to the Saudi-Led War: UNICEF
Yamanyoon
The United Nations children's agency estimates that out of seven million school-aged children in Yemen over two million are not being educated amid a Saudi-led coalition's war against the impoverished Arab state.
"The situation of Yemen's education sector is daunting. Out of 7 million school-aged children, over 2 million children are already out of school," a regional director of the United Nations International Children's Emergency Fund said on Sunday.
"School infrastructure is badly damaged and learning materials are in short supply. One in five schools in Yemen can no longer be used because they are damaged or being used in the fighting or to shelter displaced families," said Geert Cappelaere, UNICEF Regional Director for the Middle East and North Africa.
Apart from education, Saudi aggression has killed or endangered the lives of Yemeni children since 2015.
Last month, United Nations Secretary-General Antonio Guterres said tens of thousands of children under the age of five have died of starvation in Yemen ever since Saudi Arabia and a number of its allies launched their atrocious military aggression against the impoverished country nearly four years ago.
"Children did not start the war in Yemen, but they are paying the highest price.  Some 360,000 children are suffering from severe acute malnutrition, fighting for their lives every day.  And one credible report put the number of children under 5 who have died of starvation at more than 80,000," Guterres told a donor conference in the Swiss city of Geneva on Feb. 26.
The UN chief warned of the worsening health and humanitarian situation in Yemen, saying, "Over half of all health facilities are out of action, and nearly 20 million people lack access to adequate health care."
"In 2017, the worst cholera epidemic in history reached unprecedented levels as water supplies and sanitation and public health services collapsed… Almost 18 million Yemenis still do not have adequate access to safe drinking water or sanitation," Guterres noted.
In the latest Saudi attack on Yemeni civilians, nearly two dozen women and a child were killed on Sunday, when Saudi warplanes bombarded residential buildings in Talan village of Kushar district in Yemen's northwestern province of Hajjah.
According to a report by the Armed Conflict Location and Event Data Project (ACLED), a nonprofit conflict-research organization, the Saudi-led war has so far claimed the lives of around 56,000 Yemenis.
The war has also taken a heavy toll on the country's infrastructure, destroying hospitals, schools, and factories. The UN has already said that a record 22.2 million Yemenis are in dire need of food, including 8.4 million threatened by severe hunger. According to the world body, Yemen is suffering from the most severe famine in more than 100 years.
PressTV