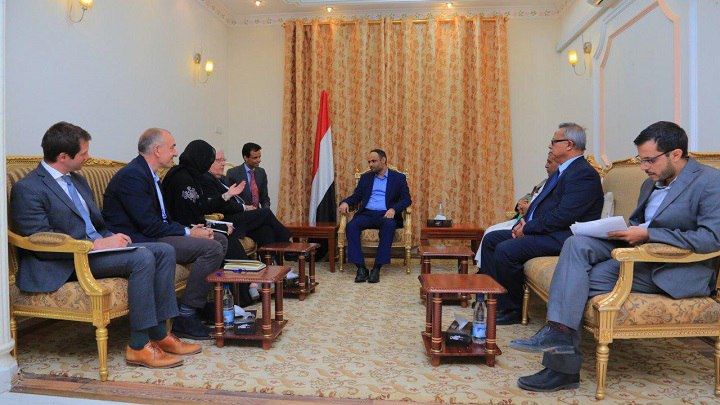 President Al-Mashat Demands the UN to Take a Position Condemning the Violations of the Aggression
Yamanyoon
President Mahdi Al-Mashat met, on Sunday, with Special Envoy of the UN Secretary-General to Yemen, Martin Griffiths, in the framework of his efforts to implement the Stockholm Agreement. During the meeting, the President confirmed the readiness of the National Forces to implement the Hodeidah agreement, noting that the representatives of the National Delegation in the Redeployment Committee had shown great cooperation and have agreed with proposals of the committee's chairman regarding redeployment despite the procrastination of the other party.
The president pointed to the role of the aggression in putting obstacles before the implementation of the Hodeidah Agreement. He called on the United Nations to take a position condemning the violations of Hodeidah agreement by the aggression countries. During the meeting, President Al-Mashat touched upon the catastrophic effects on the humanitarian level as a result of the continued aggression and siege and the escalating economic war.
For his part, the UN envoy confirmed that he would continue his efforts to implement the Stockholm Agreement and the agreement on Hodeidah. Griffiths indicated that the deterioration of the economic situation has become tangible and its consequences are disastrous for the Yemeni People, adding that he would inform the Security Council at the next meeting that there is a use of the economy as a weapon of war.
Moreover, the leader of the revolution, Sayyed Abdulmalik Al-Houthi, met on Sunday with UN envoy Martin Griffith. According to the spokesman of Ansarullah, Mohammed Abdulsalam, during the meeting, they discussed the latest developments regarding the course of the Stockholm Agreement on Hodeidah and obstacles created by the other party to prevent progress and implementation.
Abdulsalam pointed out that they discussed a number of ideas and issues that may contribute to moving forward with the agreement. A number of complications, initiated by the pro-aggression party, have resulted in delayed implementation of agreed-upon points.
At the meeting, a number of issues related to the humanitarian situation and the suffering of the Yemeni people have been discussed, highlighting many of the arbitrary measures practiced by Saudi Arabia and the UAE, which are given an international cover under the pressure of the US and Britain.
For the file of the prisoners, which is considered a humanitarian issue, Abdulsalam said that Sayyed Abdulmalik emphasized the importance of concluding all steps needed to finalize the exchange of prisoners, especially with the arrival of the holy month. He also stressed the importance of facilitating the return of the body of the Minister of the Interior to Sana'a as a purely humanitarian issue and rejected the Saudi ban on his return.