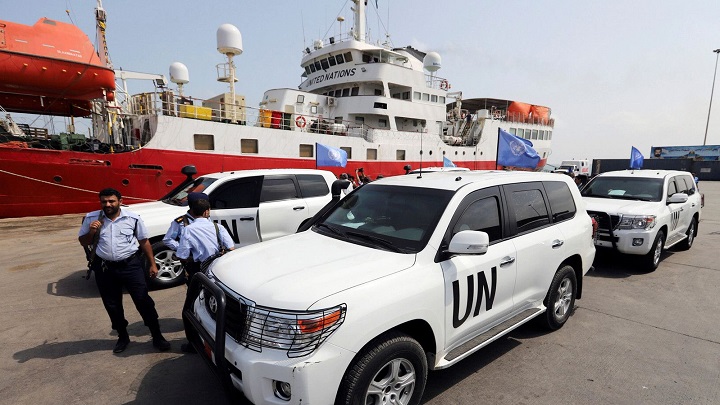 Un Monitoring Team Confirms Redeployment from Hodeidah Ports as Planned (Pictures)
Yamanyoon
The United Nations said, on Sunday, that the first day of redeployment of Yemeni Army and Popular Committees in the ports of Hodeidah, Salif and Ras Issa Sar was "in accordance with the plans," while international observation teams continue their work for the second day in a row. The head of the international monitoring committee, Michael Lollesgaard, said that the United Nations teams monitored the three ports simultaneously with the withdrawal of troops from them and take over the Coast Guard responsibility for security.
The Almasirah website reported that the United Nations control teams visited facilities and buildings to verify the commitment of the Yemeni Army and the Popular Committees to the agreement. The correspondent said that the head of the monitoring team, Ricardo Alviso, discussed with the concerned bodies the mechanism for the removal of left behind bombs. The correspondent said that the United Nations yesterday oversaw the redeployment and positioning of the Army and the Popular Committees from the ports of Hodeidah and Salaf and Ras Issa Oil facilities in the presence of the United Nations team entrusted with a cease-fire.
He pointed out that it is so far a unilateral step by the national party representing the Salvation Government in Sana'a, under procrastination and the refusal of the other party to take any step with regard to the implementation of its obligations in Stockholm agreement.