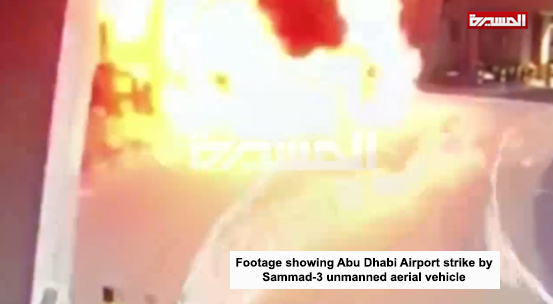 Almasirah Releases Special Footage Showing Abu Dhabi Airport Strike by Yemeni Drones
Yamanyoon
Almasirah channel on Thursday released special footage, for the first time, showing the Yemeni Air Force operation on the Abu Dhabi International Airport carried in July 2018.
The video shows a Sammad-3 unmanned aerial vehicle flying at low altitude before it fires a missile, setting two trucks parked at the airport ablaze and damaging damage to TERMINAL1.
The video revealed a security breach in addition to military achievement.
In less than a month after the operation, the head of the National Delegation, Mohammed Abdulsalam,  described the operation as successful, pointing out that the process of targeting the Abu Dhabi International Airport resulted in 14 injured and caused destruction inside the airport, while the UAE covered its losses.
Emirati aviation authorities later denied the attack, announcing that an incident involving a supply vehicle in the Terminal 1 airside area of the airport had occurred at around 4 p.m. local time (1200 GMT).
Video