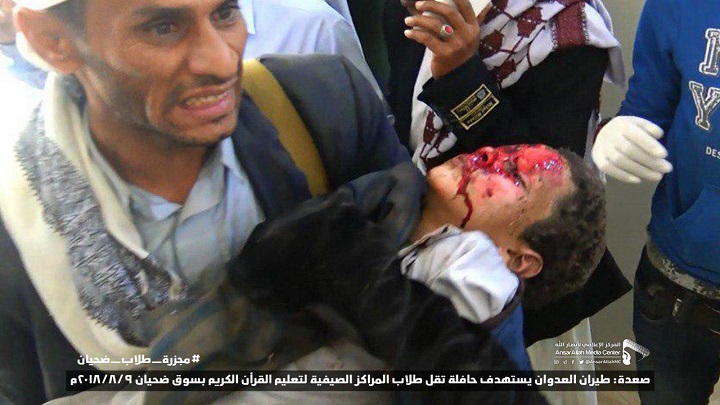 The Health Bureau in Saada Reveals Shocking Numbers and Heath Conditions
Yamanyoon
Abdulghani Farah, deputy director of the Health Bureau for Health Care in Sa'ada, revealed, on Tuesday during an event entitled Slaughtered Innocence, what the childhood in the province have been going through and the health facilities situation. Farah pointed out that the US-Saudi aggression destroyed 37 health facilities in Sa'ada governorate, including 22 health units, 10 centers, 4 rural hospitals and killed 18 of the health staff.
He pointed out that during the targeting of the civilians' gatherings the US-Saudi aggression killed thousands of civilians, but because of the difficulty in getting around and lack of communications the data collected listed 5567 civilians killed and wounded, including 1714 killed and more than 3853 injured so far.
He added: the brutal aggression caused more than 400 disabled in the province, in addition to the siege, preventing the entry of necessary medicines and medical equipment and the closure of Sana'a Airport, worsened the health situation in the province. He pointed out that the siege contributed to the spread of diseases and epidemics that fall within the biological war as a result of targeting the province with prohibited weapons, which led to a high number of cases of cancer and fetal malformation.
He said that the number of suspected cases of cholera reached 33695, confirmed by rapid examination 1489 and deaths 16 cases, while the number of cases of malnutrition in 2018 about 12000 cases, including 31 deaths, and the number of deaths with renal failure more than 100 patients.
He added: The number of suspected diphtheria cases 146, deaths 18, and the number of suspected cases of the virus H1N1 reached 117 cases, the deaths 25 cases, in addition to dozens of cases that have been diagnosed with various cancers.
The governor of the province, Mohammed Jaber Awad, condemned in the event the continuation of criminal aggression and violations of the right of childhood in the governorate and all Yemeni governorates. He also condemned the brutal crime committed by the mercenaries of aggression in torturing a prisoner of the Army and Popular Committees until death, stressing that these acts are the result of destructive ideas brought by the forces of aggression. He praised all the operations of the Army and Popular Committees, especially the Rocketry Force and the Air Force, stressing the continued support to the Army.