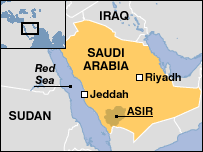 A Number of Saudi Soldiers Killed in Assir
Assir | October 1 | Yamanyoon
A number of Saudi soldiers have been killed, today Saturday, when burning their military vehicle in Assir.
The Yemeni army and popular committees targeted a Saudi military vehicle west of Qasha site in Assir, resulting in its burning and the death of its crew, military source confirms.
In the same context, the Yemeni missile force launched several Katyusha missiles targeting the border guards command in Dahran Al Janoub, Assir region.
Yemeni military operations come as a response of the US-backed Saudi aggression on the Yemeni people.