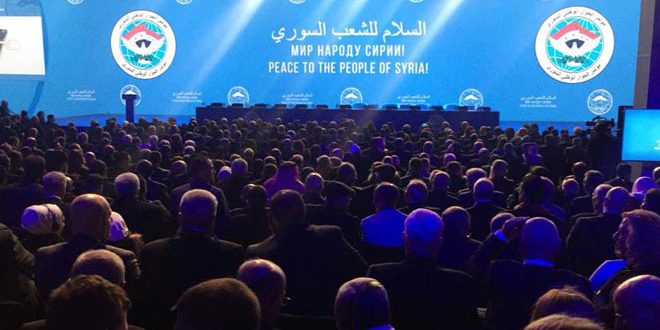 Syrian National Dialogue Congress Kicks off in Sochi
Yamanyoon
M.A.
Activities of the Syrian National Dialogue Congress kicked off in the Russian city of Sochi on Tuesday with the participation of about 1500 persons representing segments of the Syrian society and persons from foreign oppositions, SANA delegate said.
Chairman of Damascus Chamber of Commerce, Ghassan Qalla'a, the oldest participants in the Congress, said in a speech during the opening session that "Syria is the beating heart of Arabism and the hub of civilizations; therefore, we are adhered to this juncture which the seven years of war that our country passed through haven't been able to weaken, but they further strengthened it, and without that we as Syrians couldn't have been able to achieve victories over Takfiri terrorist groups and to make  great sacrifices."
"These victories have created suitable conditions for this meeting to announce to the world that we, as Syrians, are able to meet and listen to each other to affirm that the national juncture unites us and to see how our homeland will be stronger and better because no one is more keen on Syria than the Syrians, and to tell whoever interested… hands  off Syria and stop interfering in its affairs and igniting the fire of sedition and division…as our people have suffered from the outrageous interventions after they used to be an example to follow in coexistence and the stability and security," Qalla'a added.
He affirmed that "Syria will be only for the loyal national Syrians, and they alone have the right to decide their future."
"On behalf of millions of the Syrian people, I call upon you to be merciful with our homeland and to unite our ranks in defending it against whoever wants evil for it, and to defend its sovereignty, independence and territorial integrity and to protect the national independent decision," Qalla'a added.
At the conclusion of his speech, Qalla'a thanked the Russian leadership and people for their continued support to Syria and for hosting the National Dialogue Congress.
Russian Foreign Minister, Sergei Lavrov, during the Congress opening, said that the Syrian people are the only ones who have the right to self-determination.
He added that Syria, backed by Russian Aerospace Forces, managed to destroy the terrorist forces, emphasizing that now there are all appropriate conditions for ending the crisis
The Russian Diplomat stressed that the Sochi Congress is a unique event since it represents different segments of Syrian society.
Later, the participants elected members of the board of the Congress chairmanship.
The board is consisted of Ghassan Qalaa, Safwan Qudsi, Mohammad Maher Qabaqibi, Jamal Qadiri, Mais Kraidi, Amal Yazigi, Riyad Tawoz, Qadri Jamil, Haitham Manaa, Ahmad al-Jarba and Randah Qassiss.
Members of the board elected Safwan Qudsi as Chairman of the Congress, Mohammad Maher Qabaqibi as Deputy Chairman and Mais Kraidi as Rapporteur of the Congress.
Source: SANA