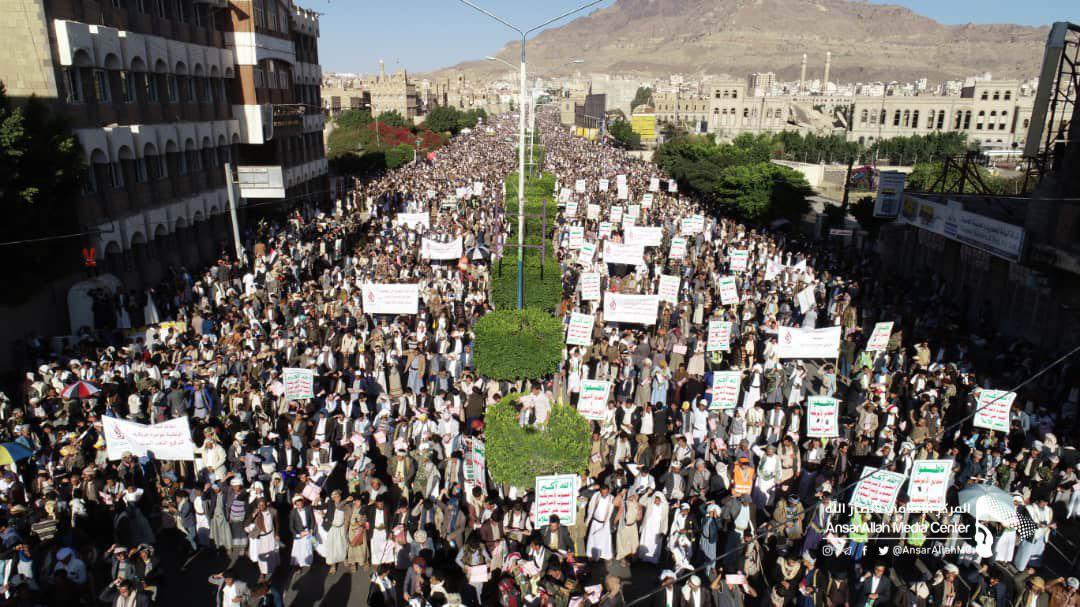 Massive Rally in Sana'a to Condemn Saudi Economic War, Commemorate the Martyrdom of Imam Zaid (Photos)
Yamanyoon
The capital of Sana'a witnessed on Friday a massive rally in Bab al-Yemen Square, in the commemorations of the martyrdom of Imam Zaid under the slogan " A Revolution against the coalition of criminality and starvation".
The participants in the event stressed that they will take the path of Imam Zayd (peace be upon him), where he sacrificed himself in fighting oppression and arrogance.
The participants raised slogans condemning the economic war, which the Saudi-led coalition has waged on the people of Yemen, so it can now either kill them with missiles, or making them starve to death by deteriorating the Yemeni currency "Ryial", which the Saudi led coalition has implemented after it has failed to progress militarily.
The participants in the event promised the Saudi-led aggression to also fail in its economic war like it has failed militarily for nearly four years.
During the event, a statement was made, calling upon all the Yemeni people, in the north and south, to revolt against the criminal coalition that brought the Yemenis nothing but death and destruction wherever they were found, and who took revenge and starved civilians in areas under its control.
The event witnessed a number of speeches and events that talked about the biography of Imam Zaid bin Ali peace be upon them and his eternal revolution against darkness and arrogance, stressing that Yemenis must continue his revolution and the need to fight injustice and achieve victory for the Yemeni people.